Color Organ
Lighting Controller
3 Channel
1500/3000 Watt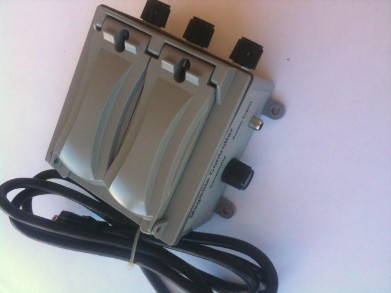 The Color Organ Lighting Controller is a sound to light control box that has been used in TV and Movie Industries for many years to produce special effect lighting such as background lightning, talking computer or a talking oven.
Now you can buy one for your viewing pleasure.
When the Color Organ Lighting Controller is connected to an audio source such as a stereo,mp3,computer etc, the lights that are plugged in will give you a light show that is truely amazing. The Color Organ Controller will automatically synchronize to the music without any programming. The lights plugged into the Color Organ Controller will be controlled by SCR's that are triggered by the amplitude of the various frequencies coming from music or other audio signals. Each plug corresponds to a different frequency range and will only trigger the corresponding lights when the music being played contains a specific frequency in that range. In other words, the lights automatically "dance" to the music.Applications include personal as well a business use for Store fronts,Outdoor Christmas Lighting, Christmas Trees, Halloween Special Effects, 4th of July,Parties,Dance Parties. Weddings and anything that you can think of to draw lots of attention. All units come suppied with everything you need to hook up to your sound source. The only thing you need is follow the directions and plug in your incandescent lights. You can now order a Bluetooth module with your unit so there are no audio cables to hook up to an audio device with Bluetooth capabilities.
The history of the color organ, light organ The term color organ refers to a tradition of mechanical (18th century), then electromechanical, devices built to represent sound or to accompany music in a visual medium—by any number of means. In the 60s and 70s, the term 'color organ' became popularly associated with electronic devices that responded to their music inputs with light shows The term light organ' is increasingly being used for these devices; allowing 'color organ' to reassume its original meaning
Only $189.95
Buy Now Free Shipping
Color Organ LED
Light Bulb & Controller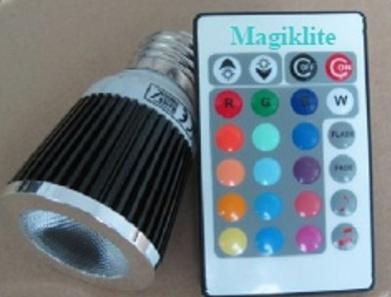 This is the easiest and fastest way to add color and fun to any environment at home, business, office, nightclub and or bar. No connecting wires to a sound source or programming required. The 3 Magiklite Color Organ LED bulbs can be commanded to be Sound Sensitive. Magiklite Color Organ LED Bulbs are controlled by a credit card sized remote controller. The IR controller directs on, off, brightness, fade, flash programs and sound sensitive or light organ function. Each Magiklite LED Bulb can be controlled to display one of 16 colors (including white) with one button preset. Just screw into any 120VAC light socket. The Magiklite remote controls all of the functions by sending an IR (infrared) signal to the bulb. One remote will control as many Magiklite Color Organ LED light bulbs as you want. Battery is included with the remote.